What's New

**WINNERS 2016!!!:
The Stranded Whale won the Green Earth Book award
You Nest Here with Me was an honor book for both the Margaret Wise Brown Award and the Massachusetts Center for the Book Award
Stone Angel was a Must Read for the Massachusetts Center for the Book Award.
**I was chosen as one of the Unsung Heroines of Massachusetts Award
**A Wired.com Podcast interview
**A video of my Andrew Lang Lecture at St. Andrews University—the first women to ever give one.
**My daughter and I are rockstars!
**5 Questions for Jane from Hornbook
**The winners of the 21st Jane Yolen Writing Contest at Hatfield Elementary School, May 2011.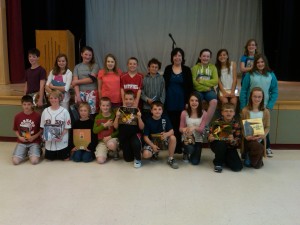 **The following of my books is in: The Bank Street's Best Children's Books of the Year, 2011 edition. And two of them were starred. This must be some kind of a record for them!!!
Elsie's Bird
Hush, Little Horsie
All Star!: Honus Wagner and the Most Famous Baseball Card Ever
Lost Boy: The Story of the Man who Created Peter Pan
An Egret's Day
Switching on the Moon: A Very First Book of Bedtime Poems
**NOT ALL PRINCESSES DRESS IN PINK is a finalist for the first ever SCBWI Crystal Kite Award in the New England region.
**Switching on the Moon is a finalist for the Cybils award.
**ALL STAR won an Oppenheimer Gold Award.
**SWITCHING ON THE MOON won an Oppenheim Portfolio Gold award and is one of the Toronto Globe & Mail's top books of the year.
**FOILED is on the Texas Library Assn's Maverick Graphic Novel Reading List and the 2012 Arizona Grand Canyon Award Teenage Recommended list.
**Check out numbers 41, 42, and 43 of the 50 Best Poetry Books for Children
**I have been elected Grand Master by the members of the Science Fiction Poetry Association
**Lots of new awards, I can't stop smiling.
The Oregon SMARTIES Award for HOW DO DINOSAURS GET WELL SOON.
The John Burroughs Society Award for A MIRROR TO NATURE.
The Massachusetts Reading Association Award for Lifetime Achievement.
Honorable Mentions from Ellen Datlow in her 2009 Best Horror of the Year anthology for "The Selchie's Children's Plaint," (poem) in the online magazine Goblin Fruit (summer issue) and my short story with son Adam Stemple–"Little Red," in the anthology, Firebirds Soaring.
**Both Come to the Fairie's Ball and My Uncle Emily were chosen for the year's best books by the Bank Street College of Education, saying: " Come to the Fairies' Ball: A joyful rhyming story tells of a fairies' ball. Amusing, imaginative illustrations.   My Uncle Emily: This moving picture book with expressive period-style illustrations explores the relationship between Emily Dickinson and her nephew, Gib. Biographical information."
**In Fall of 2010 I will publish my 300th book, though we are not yet sure which one it will be! Watch this site for the news.
**Received third place for the Dwarf Stars sf/fantasy poetry award (I have won it previously) for "Goodbye Billy Goat Gruff", from Asimov's Magazine.
**An Egret's Day received a star review in Kirkus. All-Star received a starred review in Publisher's Weekly.
**The week of my birthday, How Do Dinosaurs Say I Love You debuted at #10 on the New York Times bestseller list.
**I received not one but TWO awards this fall. The World Fantasy Association "Lifetime Achievement Award," though I sincerely hope that doesn't put an end to my achievements. And I also won the second Norton Juster Award given by a Western Massachusetts group that is dedicated to giving books to various needy schools, libraries, hospitals, community centers, etc.
**SCARECROWS' DANCE (see below) was reprinted before it even was officially released. Its third printing has just been announced.
**Two of the Unsolved Mysteries from History that I wrote with daughter Heidi Stemple have recently been reprinted: THE SALEM WITCH TRIALS and THE LOST COLONY: ROANOKE.
**I have just received the Spanish edition (printed in Madrid)) of SEA QUEENS.
**MY UNCLE EMILY, my picture book about Emily Dickinson and her nephew Gib, received two starred reviews. I got to read it aloud to a group of adults at the Emily Dickinson Museum and sign copies.
**MIRROR TO NATURE, my new book of nature poetry with my photographer son Jason Stemple, received one starred review.
Here are the upcoming books, though additions and subtractions occur on a regular basis as publishers change around their lists, illustrators are slow in finishing their work, or Life Happens.
2010 Spring:
AN EGRET'S DAY (Boyds Mills) Poetry and nonfictional pieces about  egrets, photographs by Jason Stemple
EXCEPT THE QUEEN (NAL/Roc) with Midori Snyder, adult/YA fantasy novel about two fairies kicked out and stripped of their magic and their ability to remain young, who have to save the queen's only child from the Unseelie Court.
FOILED (First/Second) graphic novel, first of two, about a New York City high school fencer who finds out she is the Last Defender of Faerie, illustrations by Mike Cavallero–see the book trailer!
GOOD NIGHT LITTLE BUNNY (Little Simon) novelty Touch-and-Feel rhymed book, illustrations by Sam Williams
MY FATHER KNOWS THE NAMES OF THINGS (Simon & Schuster) rhymed picture book, illustrations by Stephane Jorisch
HOW DO DINOSAURS LOVE THEIR CATS, and HOW DO DINOSAURS LOVE THEIR DOGS (Scholastic) with Mark Teague illustrations, two board books in the ever-popular HOW DO DINOSAURS series.
MY FATHER KNOWS THE NAMES OF THINGS (Simon and Schuster) a rhymed picture book about the relationship between a father and child.
2010: Fall
ALL-STAR (Philomel) nonfiction picture book about Honus Wagner, see the book trailer!
HOW DO DINOSAURS LAUGH OUT LOUD, (Scholastic) a dino joke book with pictures by Mark Teague
SWITCHING ON THE MOON (Candlewick) with Andrew Fusek Peters, poetry anthology of night time poems, lullabies, etc. by different poets
LOST BOY: nonfiction picture book about the author of Peter Pan, J. M, Barrie
NOT ALL PRINCESSES DRESS IN PINK (Simon and Schuster) with Heidi Stemple, picture book in rhyme and the title says it all!
DANCE AROUND THE WORLD (Barefot) with Heidi Stemple, folk tale dance stories from all over the world.
HUSH LITTLE HORSIE (RANDOM HOUSE) illustrations by Ruth Sanderson, a lullaby with horses.